Dear VIP in the tinted chauffeur-driven BMV escorted by two traffic policemen,
Dear VIP in the tinted chauffeur-driven BMV escorted by two traffic policemen,
Last night, as I and hundreds of other motorist laid stuck in the rush hour jam, aggravated by the rain and impending Thaipusam celebrations, you merrily asked your uniform-clad cronies to turn on their sirens and force the rest of us motorist to make way for you to pass.
What gives you the right to ask me to move aside? Do I not pay the taxes which help the government to build the road I drive on, not to mention your paycheck and the paychecks of the two policemen you used to help you "jump the queue"? Throughout my entire drive back yesterday I did not encounter a single traffic police other than the four (on two separate occasions) which were use to make way VIPs like yourself. Shouldn't they be helping to ease the congestion instead of making sure you'll make it to your mistress's Bangsar apartment in time for a quick shag before rushing home to you unsuspecting wife and children?
Oh, and since we are the subject of jumping queue, I would like present this screenshot taken from the Ministry of Road Safety's website. Please read it carefully, you might learn something.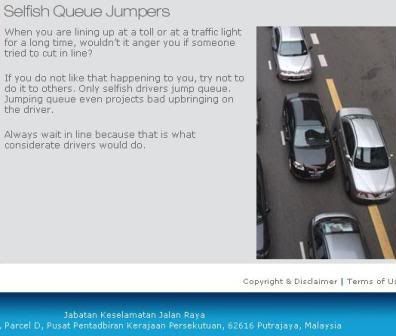 Also, click on this image for the TV commercial on the same matter.

If our nation's leaders and ministers cannot heed their own advice, please don't preach to me about road safety. I am sick of living in a country with double standards.
Signed,
Someone who writes her own speeches and presentations, knows that Google is not an internet browser, eBay is not an online store, and does not own a subsidiary company which gets paid a "management fee" for doing nothing other than placing a phone call to the "right" people.
Side note:
While i was searching for suitable images for this entry, I googled "Malaysian Police" under google's image search. Guess which well known Malaysian
blogger's
picture appears in the first page of the results?