Dialogue with David, the self proclaimed blog guru
Slinky's picture of the day
: Picture of Irene Ang taken in November at an eBay event.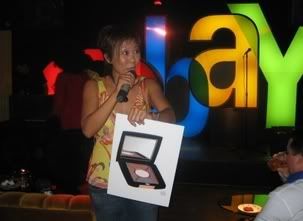 "OMFG, looking at your site meter dam depressing. Fuckingfortyseven hits a day nia! Eh, why you even bother to blog? Wahlau eh, ask your friends to support a bit lar….. Har? What? Your friends don't know you have a blog? Sigh. Tiu lor, like that means no hope.
I tell you why your blog so low traffic, it's because hor, you don't have a niche. You see all those famous bloggers, they all have some sort of niche one. Like this Kenny Sia, his specialty is in making people laugh at him. And XiaXue is her amazing Photoshop skill. Rockson ler, is famous for his big cock and politics. You don't know who is big-horse Rockson? You know Jeff Ooi or not? Yeah something like that, but not boring and alot of sex. You pulak, is about everything. Sometimes funny, sometimes got sex, sometimes boring, sometimes serious, sometimes got relationships sometimes got video, sometimes not video, sometimes got photo of pussycat…. Your kinda blog only your own friends or maybe an admirer will read one.
Anyway since you are Jack of all trades, master of none, there is another tactic i want to share with you. If you want people to read your blog, you need to post pictures of yourself. You see like that Fireangel chick, wah, post a few pictures, shoot video of herself playing with white stick, now got a huge following liow. I also like following her. Actually you are okay looking, maybe you need some Photoshop skill and diet, then can post your picture liow. I also like this Linda Chia chick. Thanks for the link. Now that I bookmark her URL liow, I don't need to look for your site then connect to hers. Actually I can remember it, not need bookmark also. Linda Chia, such a beautiful name.
Anyway my final tip for you to get more readers is to give them something. People don't do things for free; it must be motivated by something. For example give them links to porn, illegal music, jokes,.etc…Maybe can also consider some free movie tickets. Eh I also heard from Thomas you give good tips on how to pick up chicks, and that your joint rolling technique is quite unbeatable. Share some of your skills lar! Eh, no, no, not your cooking skills. Please lar, your cooking cannot pakai one lar.
Eh, eh, eh, where you walking off to? Don't angry, don't angry lar. Eh, fuck lar, who is going to pay the bill like that?"