Don't Cha Wish Your Girlfriend Was A Geek Like Me? Don't cha
Every Tuesday (Every Tuesday)
You've nothing to do (You've nothing to do)
Get off your ass and stop whining
about Monday blues (about Monday blues)
Come to Hartamas (come to Hartamas)
Orange's the name (Orange's the name)
Of a pub where geeks congregate
for pub quiz; are you game? (nerd)
Despite my cool, hip and very happening appearance (yes, I know I am conceited), on a bi-weekly basis, a few of my friends and I meet up to take part in the geekiest activity possible-pub quiz.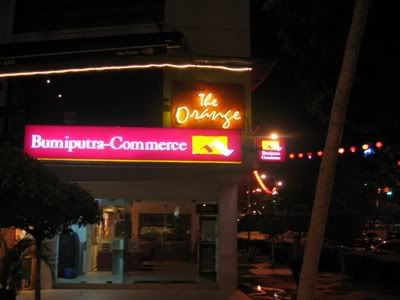 The quiz that I attend is held in a pub called The Orange. Which is, surprise, surprise, very orange.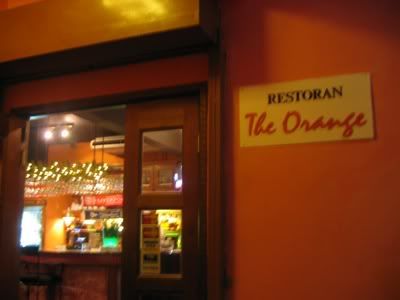 Supposedly pub quiz is a British phenomenon which probably explains why a fair amount the regulars are expatriates. Most of them seem to be English with a sprinkling of Aussies, Europeans and one very obnoxious American.
Assuming you'd like to be part of this super elite and very atas-ourselves group, you'll first need to form your geek team.
Your team should compromise of at least 4 people. I recommend you bring more people (up to 8) if your team collectively is not that smart. Remember the saying, 2 geeks are better than 1.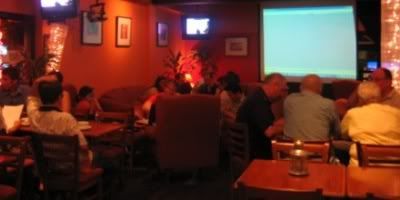 This is Slinky's anyhow-simply-write guide.
1. Firstly gather all your friends who fit the below description:
• Someone who's auditioned to be on game shows like, Who Wants To Be A Millionaire and Roda Impian
• A bespectacled librarian
• A bookworm-especially one who reads newspapers, dictionaries, encyclopedias and biographies
• A couch potato-especially one who likes Channel News Asia, CNN, Discovery and National Geographic.
• An IT geek-someone who knows about the latest gadgets, assembles his own PC, plays DOTA and worships Bill Gates.
• The loser who scored A1 for Sejarah
• A sports junkie
• A movie freak
• A music lover
• Someone who's well traveled. Stewardess included.
If you're a librarian who plays chess and DOTA, you should now have about 50 friends to chose from.
If you know all the bars along Asian Heritage Row like your mother's maiden name, you'll probably have no friends to chose from, expect maybe some stewardess friends. Skip step number 2, and proceed to con your friends into thinking it's a great way to meet smart chicks/guys.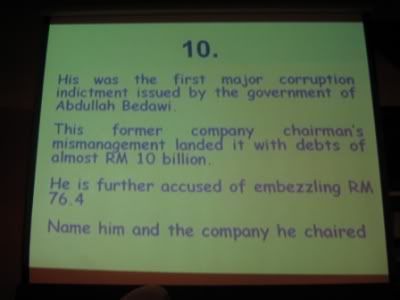 2. Selection process.
Next you'll need to select the best people for the job. The quiz could be about anything under the sun but there are reoccurring subjects, so you'd want experts on the fields below:
• You'll need someone who's big on sports. Take note that soccer does not equal sports. Your sports geek will not only need to know how many times Liverpool won the UEFA cup, he'll need to know about rugby, tennis, cricket, the rules of lawn bowling and former Olympic winners.
• You'll need someone who is familiar with Geography. Air stewardess seems to fit the bill, but first ask them this question-
Which city is farthest north? Tokyo, Seoul or Shanghai
. A friend who worked for SIA answered Tokyo. Needless to say she's not in our very atas team.
• You'll need a Kay Poh Chi, someone who's very into the life of others. She'll need to know who Madonna is having an affair with, who Tammy from NYP is, who's Paris Hilton's new best friend, whose breast are recently enhanced and which soccer player is being charged for rape.
• You'll need someone who is into movies and music. This person should preferably be 35 years and above of age. This is because most questions are about 70's and 80's movie and music.
• And lastly, someone who reads the news and knows which ministers has been reshuffled, what's Tamiflu etc etc
Other popular topics include books, history, science, cars, and comics so get team members who are strong in those areas. Please do not turn up in a team bigger than 8, the ang mohs can be quite kiasu.

3. Select a team name
Next you'll need to give your geek team a name. I.E Geek fest, Geek Out, ReGeek, Geekbiza, Geek Parade. My personal favorite is Titan Uranus.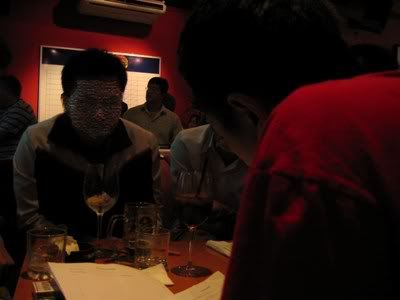 4. Understand the Game format
• There are usually 8 rounds on different topics, 10 questions per round.
• Questions are usually projected onto a screen.
• The quiz masters (usually the geek team which won the quiz before), will come around distributing answer papers, which will be handed up at the end of each round.
• Each team will then be asked to select a Bonus round. Select the round you feel most confident with. Marks obtained during this round will be doubled.
• The winning team will win a bottle of wine, a bucket of beer and prepare the questions for the following pub quiz.
5. Show me the money
• Each participant needs to pay RM10, which includes break time snacks. Yummmmm.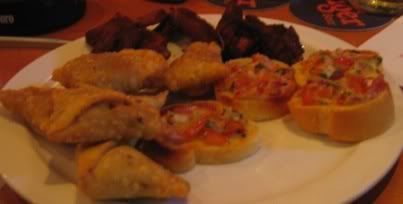 I think this is my longest post ever. It is also my first guide to promote a healthy activity which contributes to personal and mental development.
Alright people sing with me, "Don't Cha Wish Your Girlfriend Was A Geek Like Me?" *** slaps own ass*** "Don't cha"