Breast For Success
Errmmmmm...what is this advertisement advertising?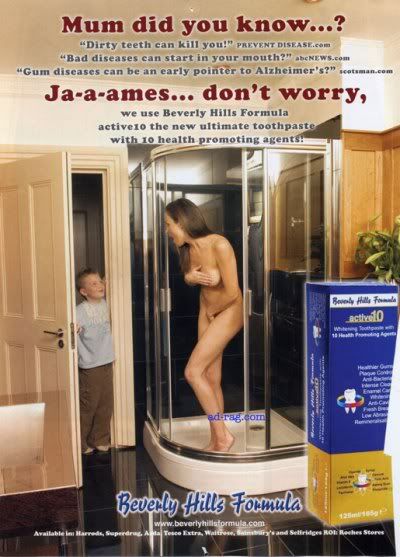 Let's face it:
Sex sells
. It explains why exhibitors at PC Fair, the largest congregation of sex deprived geeks, employ fresh faced teenage girls to help push pen drives and hard disks.
So it came as no surprise to hear that our competitor have started to trim their formerly male dominant sales force to make way for long legged girls. Ours is an industry where most of our customers are 30-40 year old men who could use the flattery from the opposite sex. In today's business world, it is debatable if what they are doing is appropriate.
But the show must go on and I believe at least in the shot term, in fighting fire with fire. So while I work on an earth-moving, ground-breaking business strategy, my HR will be hiring reinforcements. If you know of anyone who fits the bill, please send them my way.
Executive, Outdoor Sales
Slinky Chink Pte Ltd is a fast growing company in a male dominant environment. We are seeking hot female sales personnel to give us an edge in this very exciting industry. If you have the required skills, the desire to work in a casual atmosphere and would like to take advantage of your good looks, please send your resume to slinkychink@gmail.com

Job Duties:

This person is an integral part of the business and the principal point of contact between customer and the company. Specific duties include (but are not limited to):

• Demonstrate product features and benefits
• Sell by convincing, confusing or conning the customer
• Develop leads from customer referrals
• Misc. duties as assigned

Requirements:

• Female with BMI not exceeding 20 and minimum cup size of C
• Resourceful, persuasive, attractive and result oriented
• Pleasant personality with good intercoursepersonal skills
• Experience in buttering a man's ball is an added advantage
• Applicants with the following work experience are strongly encouraged to apply:

o SIA cabin crew
o F1 promoters
o Crazy Horse Strippers
o Door bitches

The Company provides an excellent working environment, an attractive remuneration package, a free boob job, miniskirts and stilettos, with a good prospect for career advancement.

Those interested should apply online providing a complete resume stating your working experience, vital stats, contact telephone number and a recent headshot to slinkchink@gmail.com