"MiTV To Bank On Content Superiority". What Content?
I hardly ever read the business section of the local dailies as it is often filled with crap articles like the one below: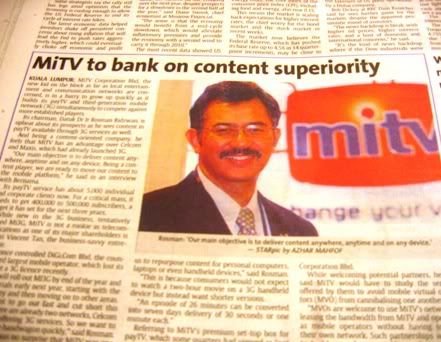 In the
article,
MiTV's chairman, Datuk Dr Ir Rosman Ridzwan felt that MiTV, being a "content-oriented" company, has an advantage over the far more established Celcom and Maxis. He said it was no surprise that MiTV was one of the two winners in the recent bidding for the 3G licence, "as 3G is a multimedia platform, not a voice or short messaging service."
"Content is a very critical element in making 3G a success.
Errr…Datuk Rosman, I hate to be the one to rain on your parade but MiTV does
NOT
have superior content. It hardly has any content! A payTV with absolutely no sports (not even cricket for crying out loud!) and hardly any English content can't possibly brand itself as "superior" in the content department.
"Referring to MiTV's premium set-top box for payTV, which some quarters had viewed as "not so attractive", Rosman admitted that the interactivity part was as yet not very efficient and hence the hesitation of potential customers."
Errr... Datuk, about the interactive features, if you actually have MiTV installed in your home, you would realize it doesn't work at all. That's right, there are NO interactive features to speak of. So it's not exactly about the efficiency you should be worried about, it's the AVAILABILITY.
Also Datuk consider it good new that MiTV only has 5000 subscribers. It's better if less people know the true extent of Malaysia's latest stillborn.